Tell us a little bit about yourself and your role in your business.
My name is Olaoluwa Mojisola Alaba. I am a mental health expert, a clinical Psychologist & Psychotherapist.
I am also a Nutrition and weight loss expert for OMAC (Olaoluwa Mojisola Alaba Consult) a mental health and wellness hub. In addition, the co-founder of Funtasticaland entertainment centres, amusement parks, in Nigeria.
I believe in healthy eating, and I lost almost 40kg in a year without strict dieting and extreme exercising. I had fun losing all that weight! I am almost completing writing my first book on how I lost the fat. To me, food is a functional medicine
Role in Business?
I am the CEO & MD.

What led you into this sector?
I was overweight for many years. I have always struggled with weight gain from the onset of motherhood (mother of three beautiful children), through working many years as CEO of my company, Funtasticaland.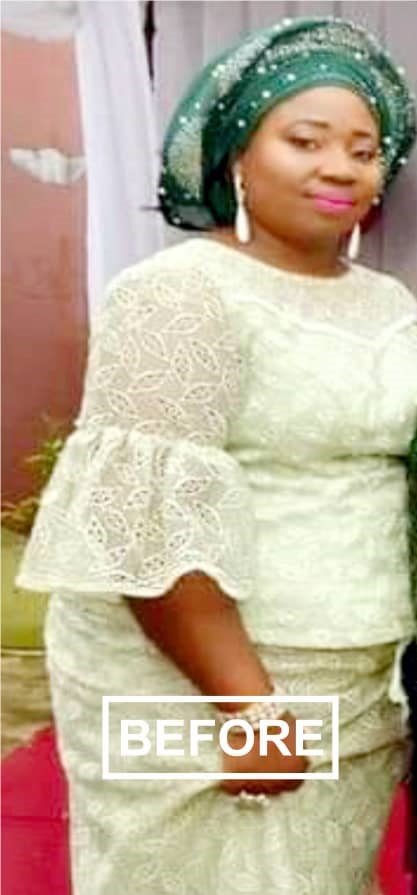 For many years, at 5 ft'3 inches I weighed over 106kg or 233.6lbs and life was miserable for me. I was caught in between a big belly pouch due to 3 cesarean childbirths, pre-diabetes, chronic anal fissures, knee pains, aching shoulders, shortness of breath, and regular hospital visits. Every part of me wanted a better life. I tried to run, play, dance, jump, climb, swim, and explore the world, but I was weak and couldn't do much because of my excess weight.
I was mocked for being on the obese side of life.
Then I was not able to wear the clothes I liked, because my size was increasing every day. For that reason, I had to compromise on what I wore. It was not a pleasant experience. It left me with so much pain, anger, fear, self-pity, and low self-esteem.
How did I allow myself to become ballooned to a size 20? I thought to myself. I was stuck and irritated. My self-esteem was bruised. I started seeing food as the cause of my predicament (I used to have a bad relationship with food). I became afraid of eating. It also became hard for me to attend social gatherings; and whenever I did, I avoided taking pictures. I hated taking a stroll in my neighbourhood because I got fed up with having people, including strangers, pointing out my body size. Sure, some did it out of sheer concern, but I felt hurt, nonetheless.
Then this particular day, I decided I have had enough.
My problem was not overeating as such, but the lack of information on what to eat, my food intake, portion control, and a sedentary lifestyle. Aimed with a healthy lifestyle, nutrition, and weight loss training and certification, I was able to lose almost 40kg in ten months.
For anyone trying to lose weight, please understand that insufficient or extreme diet will not make you lose weight but rather slows your digestion, your sleep becomes disruptive, your hormone functioning decreases, and micro-nutrient deficiencies become a risk. Your body needs food to have optimal metabolism. An optimal metabolism will be able to burn fat and keep it off in the long run.
Entrepreneurship could be hard. What has been the victories and challenges of your journey?
Businesspersons face a lot of challenges, and many books have been written about the ways to overcome them. While economic education doesn't make a person a businessman, it is important to get a relevant information about the mechanisms of running a business. Many difficulties the small and medium-sized businesses struggle with can be solved, but entrepreneurs need to be willing to face them and put the needed efforts to build the successful business. Sources @ https://www.legit.ng/1198401-challenges-entrepreneurship-nigeria .

One of the most challenging things about being an entrepreneur and nutrition and weight loss expert is the amount of myths around food and nutrition. People putting themselves at risk by believing a set of principles about food which may not be entirely accurate.
Also as clinical psychologist, one of the victories of my entrepreneur journey is understanding the way I work and providing insightful awareness on mental health, rethinking food, emotional eating, meal prepping, calorie counting and planning.
I've been able to take actions on the science behind eating well by making it practical, understandable, and fun. We've been able to help our clients make the best choices by seeking professional help on mental health issues and also encouraging people to inculcate healthy eating habit and lifestyle.
As a health coach, You can make good income, but it won't happen overnight and it will take quite a bit of effort.
When you finish your health/Nutrition coaching certification, clients will not automatically fall into your lap. You'll have to find them, market to them and work to gain their interest.
Becoming a health coach has been deeply rewarding to me, because it is rare in life that you get to promote happiness, build resiliency, save people's money, and help people live longer and more fulfilling lives at the same time.

As running Funtasticaland; we know play is so important to optimal child development that it has been recognized by the United Nations High Commission for Human Rights as a right of every child. Play allows children to use their creativity while developing their imagination, dexterity, and physical, cognitive, and emotional strength. Play is important to healthy brain development. It is through play that children at a very early age engage and interact in the world around them, thus at FuntasticaLand Amusement Park, what we do basically is putting smiles on our clients' faces, making them happy which is very important for their states of minds.
Some challenges we face are meeting the diversified needs of our customers, Lack of capital, Difficulties in getting loans, Poor state of infrastructure, Marketing strategy challenge, staying ahead of our competitors, improving our marketing strategies, how to digitalized some of our products etc.

What is it like working in the weight loss and amusement park industry?
Working as a health coach is incredible dealing with weight management, mental fitness etc. It requires a lot of dedication, passion to help our client's wellbeing, commitment, trainings etc.
It is a beautiful experience being a Co-founder of FuntasticaLand Amusement Park, mental health expert and a health coach because I get to make people happy, celebrate kids, help overweight people meet their weight loss goals, reduced stress, increased self-esteem, decreased anxiety, and managed depression. Feeling better psychologically contributes to better physical health outcomes.
How are you staying ahead in spite of covid19 and and what lessons or what advice would you give to anyone who wants to break into your industry?
The pandemic really affected almost everyone and every sector but most especially the entertainment industry, in compliant with the federal government direction that all entertainment facilities must remain shut, we had to close our parks.
We had to refocus our marketing strategies, create two new products that we can deliver in people's home; tagged "FuntasticaLand Treats Box and Party Box". Also we are still reaching out to more customers and engagjng some people online and still celebrating children's birthdays in their home. While most start-ups may see repurposing as a short-term opportunity or solution, it remains a fundamental survival strategy and growth opportunity for this time.
As an health coach and weight loss expert
It is an avenue to reach out to more people that our health is important and we should also employ healthy living habits even in the lockdown. We can stay fit while at home without gym by simply increasing our daily movement through house chores, jumping ropes, participating in aerobic videos, dancing etc.

Advice to give anyone who wants to break into the industry.
To be a health coach or specializes as a weight loss expert, you may obtain a certification, but very importantly, you must have passion to help people improve their health and wellness.
As an entrepreneur, I will advise that many entrepreneurial businesses must pivot to meet new needs for goods or services borne out of this crisis in order to survive in their Business at this covid 19 era and beyond.
These are the social media links to the businesses mentioned above